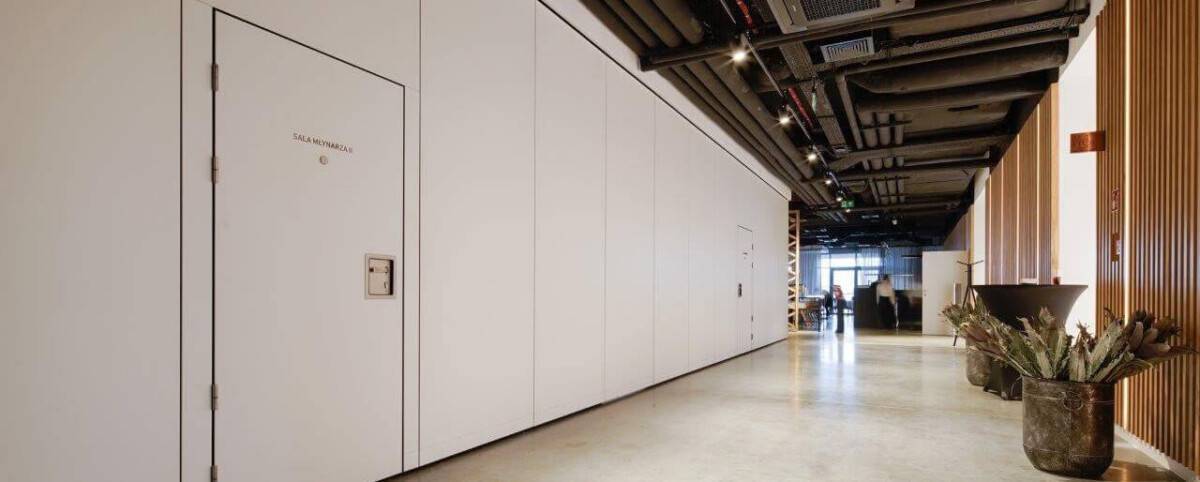 SILENTEC EI 45 ACOUSTIC WALL is a sliding solid wall system with good acoustic parameters used to divide rooms that require a fire barrier. The wall is built of independent tongue-and-groove panels joined by a magnetic strip and guided by a ceiling track.
The system does not require any floor tracks. The panels are parked in a stacking area designed according to your specifications. Walls can be equipped with a single or double leaf door (doors without fire resistance classification), can be combined with other Silentec walls (including with other EI 45 walls or without fire resistance classification) at any angle, offering a variety of partition layouts.
Walls are sealed by telescopic elements sliding out of the panels. Telescopic elements are pulled out at a half-turn of a key. On request, walls may be fitted with a traditional locking mechanism whereby the telescopes are fully extended through multiple turns of a key. Walls may be finished with any material chosen by the customer.
PRODUCT FEATURES
Fire resistance EI 45
Variety of partition layout options
Variety of panel stacking options
Wide range of wall surface finishes (melamine, HPL, mirror, acoustic panels, magnetic boards, printed images chosen by the customer, etc.)
Various wall combination options (T-connections, cross-connections, connections at any angle)
State-of-the-art locking mechanism which does not require multiple turns of a key (only half a turn)
Single or double leaf door (doors without fire resistance classification)
Walls can be combined with other Silentec walls (including other EI 45 walls or without fire resistance classification)
Sound reduction Rw 50 dB
Full product certification
Silentec product is a system designed in Poland and manufactured with Polish components